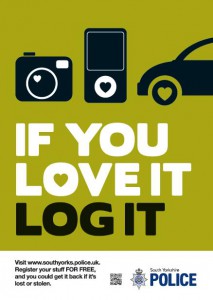 South Yorkshire Police are advising people: 'If you love it, log it'.
In a countywide crackdown on theft and burglary, police are urging people to log their expensive Christmas presents and any other precious belongings on immobilise.com – the world's largest FREE register of ownership details.
In a time when police resources are getting ever more stretched, the police are looking to focus their efforts on crime prevention, with this campaign aimed at preventing thefts happening in the first place – a more efficient way of protecting the public.
And in addition to acting as a major deterrent to criminals, the big difference with Immobilise is that as well as getting your stuff back if it's lost or stolen, the system helps to catch the thieves as well!
The database is linked directly to police systems, so when officers recover any property, for whatever reason, they can check it against items logged on Immobilise. For example, if someone arrested on suspicion of drunk and disorderly has your stolen mobile phone in their pocket, police will also be able to link the theft to them as well – but only if it's registered!
Any item can be registered on immobilise. The easiest items to log are electricals, or anything that has a serial number, but you can even log jewellery or ornamental items using the photo upload and description functions. You can register as many items as you like, and then if they are lost or stolen you simply log back on to register them as such. The police can check any property they recover, whether that's when a person is brought into custody for any reason, property recovered from criminals in raids, or even during one of their now routine checks on second-hand dealers. And if they find anything that is listed as stolen, not only will you get your belongings back, but the thieves can be brought to justice.
Chief Superintendent Bill Hotchkiss said:
Part of policing involves stopping crime happening in the first place. The public can play a huge part in this by protecting their property with Immobilise, making items easier to identify and less attractive to thieves.
We want to send a clear message to those potential thieves that anything logged on Immobilise is too hot to handle. As a member of the South Yorkshire public, by registering your property, and marking it as such, you are much less likely to become a victim of crime.
To support the campaign, police are distributing packs to the public to make the process even easier. These include a selection of stickers to mark all your items as logged, so as to deter criminals, and an information leaflet to explain the process. The packs are available from your local police stations in South Yorkshire or from South Yorkshire branches of Curries, Dixons and PC World. In addition, safer neighbourhood team officers will be out and about in public places offering packs and advice to members of the public.
Visit www.immobilise.com to get started.
More details can be found at www.southyorks.police.uk