Thieves who steal mobile phones straight out of people's hands as they zoom by on their, often stolen, mopeds are becoming an increasing problem for the public and police.
It's completely shocking to the person being attacked. Martin Lewis, the money saving expert, who was one of the latest victims can confirm this from his recent attack near Oxford Circus. He tweets about his incident: 'About 40 minutes ago two men on a moped just rode up on the pavement and snatched my mobile out of my hands. The speed and accuracy was frightening.' To read more on this attack click here.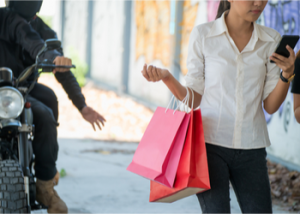 Scotland Yard claims that moped muggers are snatching 20 phones an hour and that thieves mainly go for iPhones. If the phone is still switched on then they reset it and sell it on, if not then they will trade it for parts.
If the owner has been astute enough to register their phone on immobilise.com, the National Property Register, they would immediately be able to change the status of the device flagging it as stolen to traders, as well as report it to the Police*. UK Police officers are the ONLY people with authorisation to access the Immobilise database to check the status and ownership of a mobile phone and repatriate it if it is recovered. The Metropolitan Police advise mobile users to activate their phone's security features when they receive it and to register valuable possessions with immobilise.com for free, pre-loss or theft.
In this increasingly common crime the phone's owner is often not the only victim. If you are buying a second hand mobile phone, whether that be an iPhone, Samsung, HTC or any other smartphone, then CheckMEND can help you avoid stolen property. An online check costs as little as £1 and will highlight if a phone is blocked, stolen or compromised in someway.  CheckMEND is the most comprehensive device check available helping consumers, traders, recyclers and retailers buy and sell second-hand goods with confidence.
The moral, however of this post is not to give thieves opportunities to steal your possessions or profit from your loss. Try to avoid using your smart phone in public, be cautious, and to be on the safe side always register new phones or mobile devices on immobilise.com.
* Flagging an item as stolen on Immobilise means that information is immediately available to the Police when they conduct searches for it on the Police only NMPR system. In the event of a crime, a report should also be made directly to Police so they are able to investigate it appropriately and request additional details when relevant.