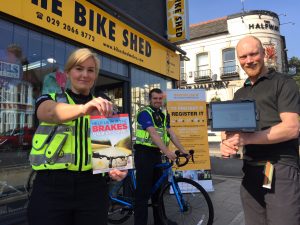 South Wales Police and 'The bike Shed' in Pontacanna have teamed up for a new initiative to reduce crime in the Cardiff area using The UK National Property Register 'Immobilise' to its full potential.
The very first 'Registration Station' is now in operation for anyone who purchases a bike or takes it in for repairs or servicing. There is a conveniently set up station in the store where you can register your bike there and then. It's quick and easy and a perfect solution to encourage people to protect their property.
Registering your bike on immobilise means you are more likely to get your stolen property returned to you. The Police have a direct link via the NMPR to be able to quickly and easily trace the rightful owner of the property and if found stolen can make convictions much faster. According to Cycling UK, a bike is stolen every 90 seconds in Britain. Despite this, only two percent of bike owners bother to register their bike to aid its recovery.
Richard Landsdown, from The Bike Shed, said:
We are delighted and very keen to be kick-starting the initiative in Cardiff and truly believe that this is the most positive anti-bike theft initiative that we have found. Thousands of bikes will be registered with us this year and the Immobilise station is accessible to everybody in store. The more people who register, the harder it will be for bike thieves.
Les Gray, Commercial Director for Immobilise, said:
We are pleased to support this initiative that benefits bike owners and reduces crime. It's a great example of responsible retailing and pro-active policing – ownership registration within the shop will ensure the quick and easy process is made even more convenient and captured at point of sale or service.
To update your account or register on Immobilise now please go to: www.immobilise.com