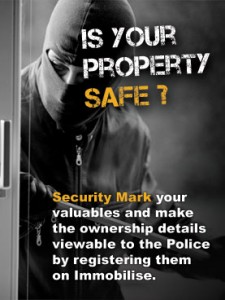 Thames Valley Police are continuing to encourage residents to protect their property and register valuables on Immobilise.com, the UK National Property Register.
The website is a free database, which is used by all police forces across the UK to help them return stolen property to rightful owners.
Register your personal property at www.immobilise.com so that, if your valuables get lost or stolen and police recover it, you'll get it back. It could also help police officers to get the burglar or robber convicted.
It takes a few minutes to complete the registration, allowing you to create a free, private and secure portfolio of all your personal property.
Inspector Sean Hodgson, Force Crime Reduction Manager, said:
We are continuing to urge residents to register their property, it only takes a few minutes to register and if your property is stolen and recovered there is a greater chance of it being returned.

Becoming a victim of crime is an incredibly upsetting experience for people, especially if personal possessions such as cameras or mobile phones are stolen with irreplaceable photos of loved ones and phone numbers of family and friends.

We are asking residents to help us and help themselves by registering all their valuables on the Immobilise database. People can register any item with a serial number.

Police officers may then be able to return any items they find to their rightful owner. It may also enable officers to secure a successful prosecution.
Thames Valley Police is currently running an initiative specifically tackling burglary, called Operation Breaker. This Forcewide campaign received a £143,000 funding boost from the Home Office on 28 December as the national 'Operation Vigilance campaign gets underway. Operation Vigilance aims to tackle and prevent burglary and personal robbery.
To visit the Thames Valley Police website please go to: www.thamesvalley.police.uk