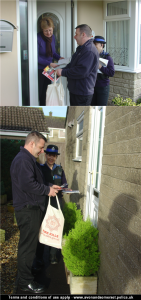 The Wincanton neighbourhood policing team has been out delivering festive message to its residents
More than 450 homes were visited by the team who spoke to residents about what steps to take to take for a crime-free Christmas. People at home were reminded not to tempt thieves by keeping presents out of sight, making sure their house is secure and that empty houses looked occupied by leaving a television or radio on and using timer switches on lights.
The day of activity, on Wednesday 9 December, was undertaken in partnership with Devon and Somerset Fire and Rescue Service who spoke to residents about fire prevention this winter. Residents were asked to ensure smoke alarms were fitted and working, reminded not to overload power sockets and advised to check their Christmas tree lights before putting them up.
Where there was no answer at houses an advice leaflet was posted through its door.
The event was organised by Police Constable Sara Stephenson, the beat manager for Bruton. Speaking afterwards, Sara said:
Christmas is a special time for people to relax and enjoy spending time with family and friends. Becoming a victim of crime at Christmas can spoil the festive period so we have been out reminding people how to avoid being targeted this year. The message was well received by the residents we spoke to and I am confident most will act on the advice we gave.
Top tips for staying safe:
Lock up and set the alarm in the evening as well as when you go out
Seem in when you're out by setting a timer switch to turn the lights on at dusk
Post code your valuables and register them for free at www.immobilise.com – it could help convict a burglar and return your property
Keep your keys and handbag or wallet hidden safely out of sight
Don't advertise your property to thieves: hide Christmas presents and don't put boxes out for rubbish collection, bag them first
Join or set up Neighbourhood Watch
Call police immediately if you see anything you think is suspicious
Make sure ladders and tools are secured otherwise a thief could use them to break into your home.
To view the source article please go to: Avon and Somerset Police Website