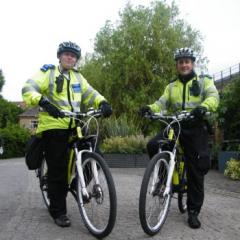 Immobilise's Police search portal, the NMPR, continues to help the joint MPS/TfL London Cycle Task Force in identifying and returning stolen bikes and property to their rightful owners.
As reported by BikeBiz, PCSOs Jaime Page, Matthew Sait and Derek Fletcher from the MPS/TfL (Metropolitan Police Service/Transport for London) run Cycle Task Force reunited a stolen bike with its owner this month. While on patrol in Islington on May 3rd 2011, they noticed an unsecure and unattended silver bike upturned outside a sports shop in Chapel Market, London.
The officers checked the frame number of the bike against the National Mobile Property Register (NMPR) to check if it was registered and reported stolen. The checks revealed the registered bike had
been stolen in Tavistock Square, WC1H one month earlier on April 4th.
The PCSOs detained the suspect – a 17 year old boy from Camden – who was inside a nearby shop. He was then arrested on suspicion of handling stolen goods and has since been bailed, to return to police on June 30th.
Cycle Task Force Inspector Graham Horwood said:
We are delighted to be able to return this bike to its rightful owner.

This shows that you can increase your chances of having your lost or stolen bike returned to you, by having it registered and reporting any theft to police. We advise any cyclist to do the three R's' – record the details of their bike, register them onto online property databases and report any theft to the police.
The cycle-dedicated team of officers are aiming to cut bike crime in London and has made over 130 arrests since its launch in June 2010.
The NMPR is the dedicated on-line property search system for UK Law Enforcement agencies. It allows the police to search any identifiable item of property to view its registered owners details, if it's been reported stolen to the system by the police anywhere in the UK, by the owner, the insurance company or in the case of a mobile phone, a network.
Virtually all the forces in the UK use the NMPR with nearly a hundred thousand officers with access via their control centres, handheld devices and computer systems. Hundreds of thousands of checks have been run since the system went live with many arrests and charges brought as a result of the information held on the NMPR database.
The public can proactively register property on www.immobilise.com that is
instantley searchable via the Police NMPR, mean that the police can on occasion return your property before you even realise or report it stolen!
For more see: www.immobilise.com/about
To read the source story please go to: BikeBiz